About SC-Project

SC-Project USA is the official importer and distributor for SC-Project Exhausts
SC-Project Exhausts are designed and manufactured in Italy with an attention to detail that is second to none.
Here at SC-Project USA, we share the same mission as passion as our extended family at the Italian factory. As the exclusive distributor for North America, we are here to provide products and support to all customers looking for a World Championship exhaust brand.
Every exhaust that reaches customers in North America, has come through our logistics facility and warehouse. We take great care to ensure that all exhaust products are in perfect condition and are ready to ship.
Note: SC-Project exhausts are made in Italy. With strict emission laws in Europe, you will typically see that an exhaust is listed as a "Street Legal" or "Race Version" exhausts. This applies only to the European laws. Check your local laws regarding exhaust modification. Many race version exhausts will not offer dB killers, and many street legal applications will not offer the option to remove the dB killer. CLICK HERE to view the various exhaust modifications some of our customers have suggested.
The SC-Project North America Group handles distribution for all of North America. For territories outside of these countries, please contact SC-Project Italy to determine the distributor for your country.

SC-Project started its activity in 2004 and it is a factory specialized in the production and design of high quality and performance exhaust system for motorcycles, both street and racing ones.
The company is highly specialized in aftermarket exhaust system production and realizes full system and silencer using the best material as titanium, iconel and carbon fiber. It is also equipped with vanguard machineries which allow the factory to keep a very high qualitative standard.
The new SC-Project headquarter is settled in viale Lombardia in Cassinetta di Lugagnano (MI), and is composed of 3 communicating buildings all characterized by an external area for a total surface of 16.000 m2: 9.000 m2 covered and 7.000 m2 open air.
The productive and management head office is settled few kilometers far from Milan, in the industrial area between Abbiategrasso and Magenta: it is a strategic industrial area in the South West part of Milan, few kilometers from the A4 and A7 highways, which are reachable in less than 10 minutes by car. The metropolitan city of Milan is reachable in 30 minutes, Turin in an hour and the international airports of Malpensa and Linate are both reachable in 30 minutes.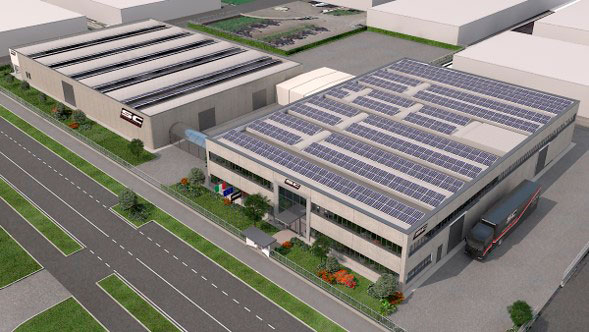 In a view of environment sustainability and use of sources of alternative energy, Advanced Group S.R.L. company, owner of SC-Project brand – has adopted a new and innovative photovoltaic system, which completely pays the energy consumption of the plant and completes the project of technological innovation about energy efficiency at 360°.
The photovoltaic system is perfectly settled on the roof of the factory of Cassinetta di Lugagnano (MI), and produces energy to satisfy more than 100% of the energy needs of the whole production process of the company and it makes the company save dozen of TEP and avoids thousands and thousands CO2 kilos in the atmosphere. The photovoltaic project was strongly required by the company, which completely integrates in SC-Project policy for environment protection a sustainable development by the production of green energy, to improve the well-being of the territory and the community it is settled in, according to the company policy.